Accessories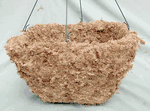 This square sphagnum moss basket is 10"x10" on the inside and is 6.5" deep.

Comes with 1.5" deep poly water retention liner.

Standard hanger is four (4) strand rigid wire hanger.

Chain hanger available upon request at no charge.

Shipping charges additional.

THIS IS A GROWER' CASE.

We prosecute infringements of our trademarks, copyrights and intellectual property.
$270.00
Email: topiary@sktc.net Phone: 800-355-3110